Fun Floral Rugs for Your Home
Spring is a season of new life, new blooms, and a renewed fresh outlook on the future. It's also the perfect season to give your favorite rooms a design refresh and add in some timely pops of color! Floral patterns represent one of the most classic motifs in art, inspiring us with vibrant colors and beautiful depictions of spring flowers. What better way to introduce eye-catching color, visual, and soft texture than with stylish area rugs throughout the home. If you're looking for some easy spring additions for your favorite rooms, we absolutely adore these fun floral rugs for your home.
Painted Beauty
Like magnificent brushstrokes within a gorgeous spring painting, these beautiful rugs are like functional works of art in your home. The tranquil elegance of the United Weavers Rhapsody Collection multi-colored rug lends deep purple and blue tones against a neutral cream background for a serene oasis vibe. Pair this Mohawk Bright Floral multi-colored rug (below) with bright pillows and accessories to create a space that is full of optimism. Use the versatility of the indoor-outdoor Loira Manne Tropical Flower rug for a casual feel and an added sense of relaxation wherever you need it.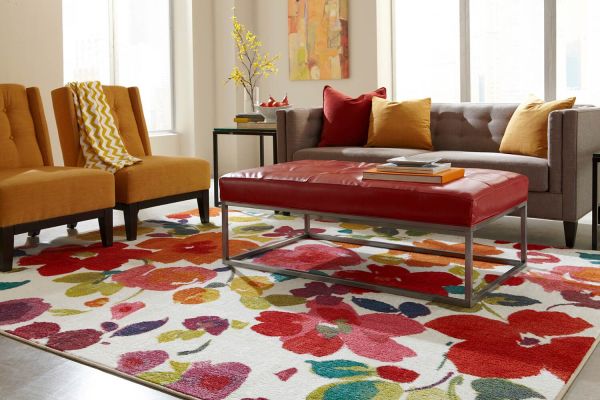 Moody Hues
Not every floral rug pattern has to represent a lively, vibrant scene. In fact, we love the moodiness and deep colors found in these stylish varieties. The Momeni Baja Baj 18 rug in navy offers a rich background with an artistic contrast stencil pattern for appropriate seasonal sophistication. Maybe you'll prefer the deep reds and browns of the United Weavers Contours Collection in burgundy (below) for a fashion-forward touch of floral. Warmth and elegance characterize the Nourison Gatsby rug in mocha is perfect for an inspired modern take on a classic color palette with fine detail.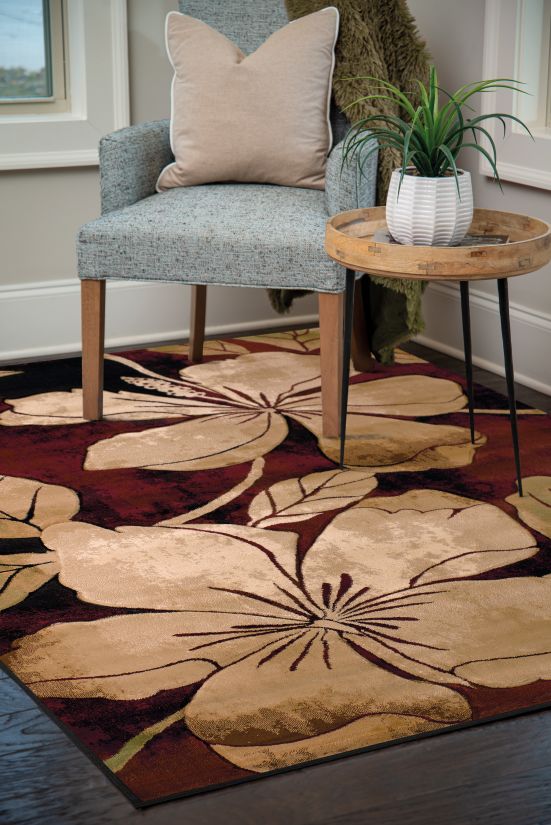 Creative Interpretation
You can also use floral-inspired area rugs to add a fun, playful, or creative touch where appropriate. Check out these Mohawk selections that each offer a stand-out interpretation of a classic floral visual. The Geo Floral Pattern Caravan would look smashing in a hip, modern office and inspire intellect to get your wheels turning. For a more abstract representation, the Tossed Floral Collection (below) uses exceptional color clarity and unique design to spark your imagination.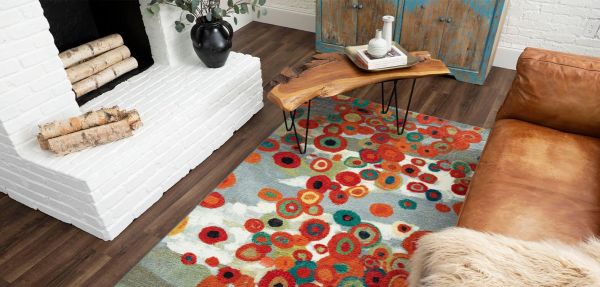 Uplift your child's playroom or learning area with the whimsical Prismatic Critters rug (below), designed on a plush, eco-friendly EverStrand™ tufted base for superior strength stain resistance and a cozy soft touch.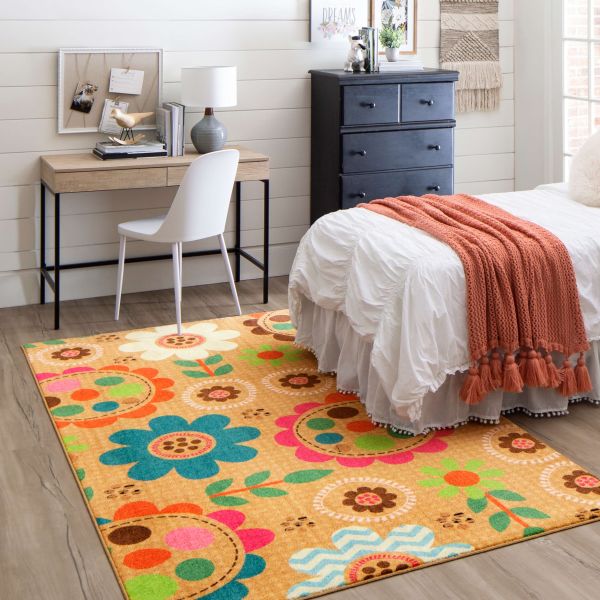 Lean into the spirit of the spring season and let your favorite florals shine throughout the home with hip rug additions. Browse Rugs.Shop for the highest quality indoor and outdoor rugs from all the trusted brands, and the best prices on your favorite floral-themed rugs that you'll find anywhere on the web.