Use an Area Rug to Elevate Your Dining Room
While dining at home during the week may consist of eating at a kitchen island, on the couch, or any other informal setting in the home, our dining rooms are perfect for sitting down together with loved ones and enjoying a true meal experience. No matter what type of flooring your dining room has, you can add an appropriate area rug for extra warmth, softness, color, and texture! Our Paneling Factory Of Virginia DBA Cabinet Factory Rugs.Shop features many fantastic dining room area rugs to choose from, perfect for making an already cherished space even more inviting. Here are some of our favorite ways to use an area rug to elevate your dining room.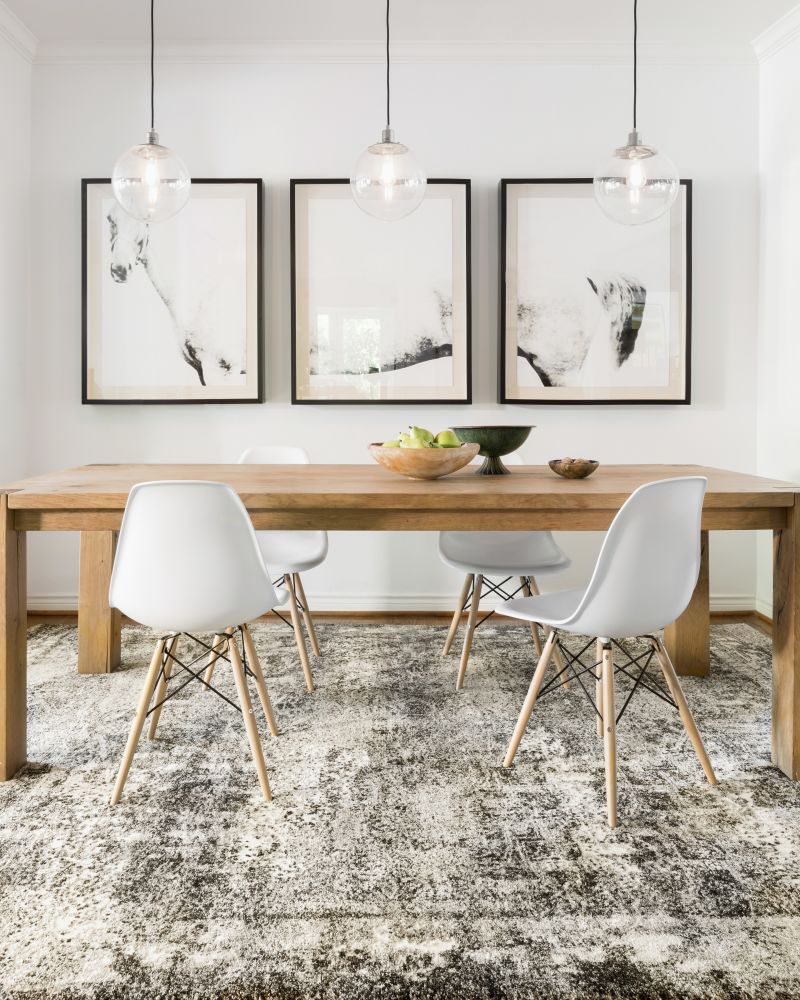 Dining Room Area Rug Materials
Since your dining room generally receives less foot traffic and overall activity than the rest of your home, we love the idea of choosing a luxurious area rug material that may not fit well in other rooms. Both silk and shag rugs will provide supremely soft texture underfoot. If you have young children who are still learning how to eat food cleanly or animals who are allowed to be in the dining room during meals, you may want to wait before making a pricier rug investment.
Thankfully, easy-to-maintain rug options like cotton, nylon, and polyester still come in countless gorgeous varieties to add chic sophistication. If you are concerned about stains or food particles, consider a speckled rug or multi-colored rug design that will camouflage blemishes better between cleanings!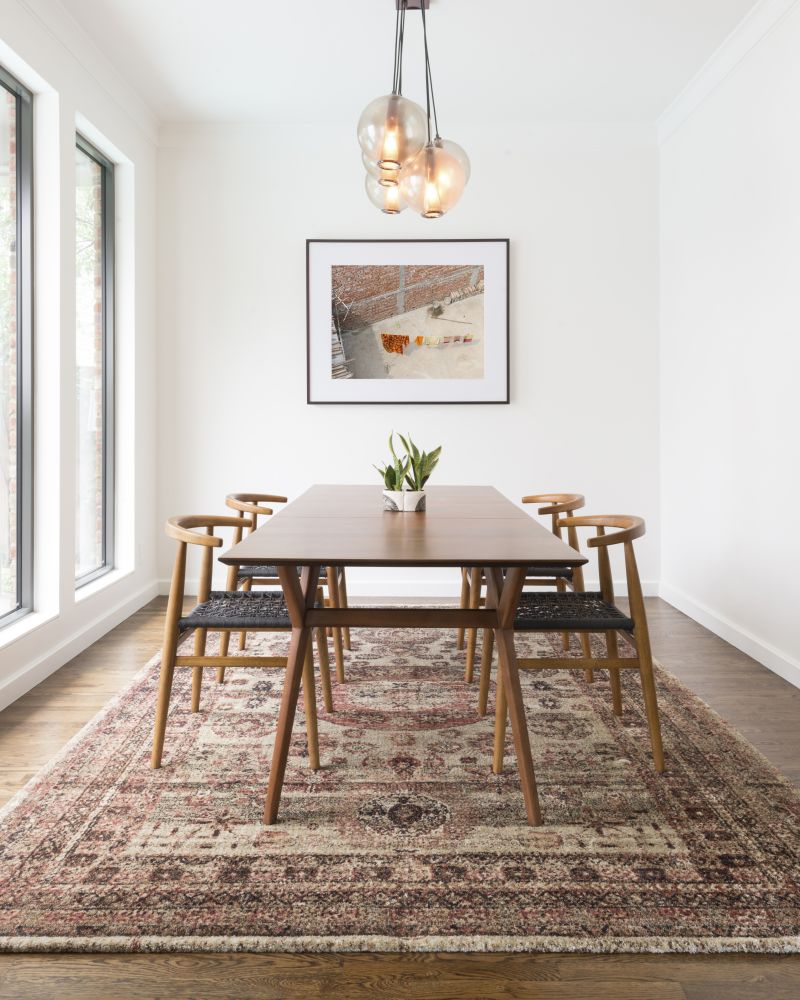 The Best Area Rug Size & Shape for Your Dining Room
In order for your dining room area rugs to provide the proper balance and proportion to the space, as well as create the optimal eating experience, we advise you to purchase a large enough rug to fit all legs of the dining table on its surface area. In addition, we recommend adding enough distance with the rug to accommodate when chairs get pushed back from the table. When all seating and table legs are on the dining room rug, the uniform level prevents unevenness and awkward moments that can create spills. As a rule of thumb, add 36 inches (or 3 feet) to the dimensions of your dining room table to find your dining room area rug size.
Most homeowners will need to start with at least a 6-foot or 7-foot rug to fit the entire table and seating arrangement. For medium to larger dining rooms, try starting with an 8 x 10 foot or 9 x 12 foot rug to fit the table and chairs, and move up in rug size accordingly. Depending on the shape of your dining room table, select the shape of your dining room area rug to mirror the table shape cohesively. No matter if your table is square, rectangular, circular, ovular, or even octagonal, we have the rug shapes and sizes to match it and unify your dining room layout!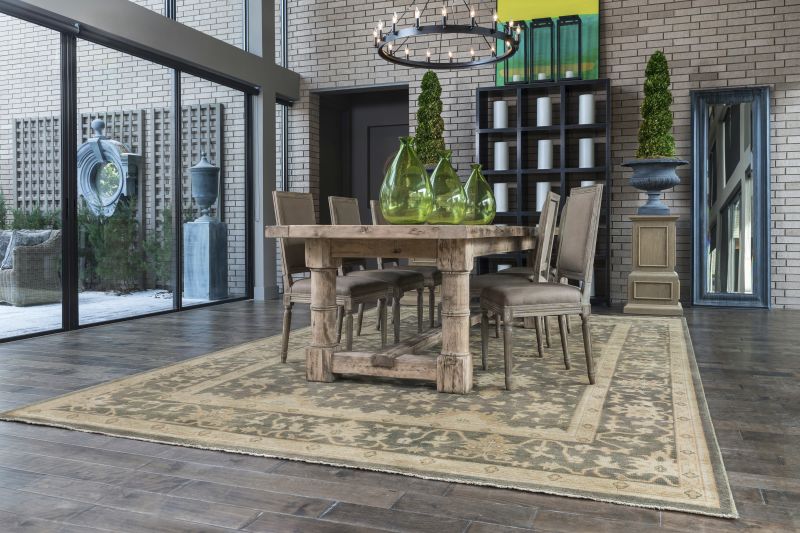 Your dining room deserves to be as fashion-forward as the rest of the home and a stylish area rug will help frame the table and seating to perfection. Also, your dining room area rugs will serve as the first line of valuable protection for your floors underneath! When you're ready to elevate your dining area with a gorgeous rug, take a look inside our Paneling Factory Of Virginia DBA Cabinet Factory Rugs.Shop for the perfect option to complete your inspired space.