Few design schemes can capture the warmth, organic beauty, and comfort of farmhouse style, perfect for creating a relaxing atmosphere amid a busy modern world. With a familiar mix of traditional elements and fashion-forward tones, farmhouse style or 'rustic chic' provides a captivating balance of vintage motifs and fresh touches. We have the ideal surfaces and textures inside our Paneling Factory Of Virginia DBA Cabinet Factory showroom that will anchor your favorite rooms with inspired visuals and valuable performance. Here are a few of our favorite selections for farmhouse style floors: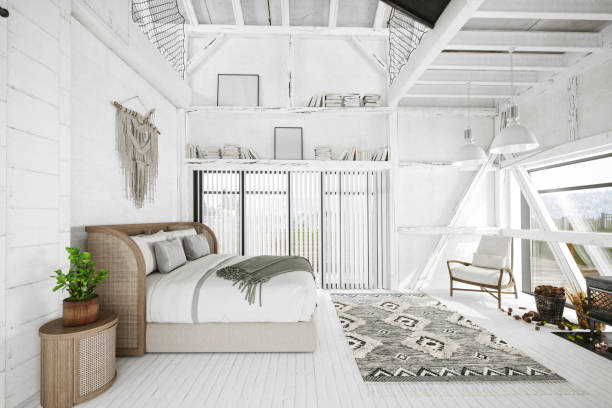 Hardwood Beauty
For an undeniable connection to the great outdoors and following an emphasis on using natural materials, hardwood flooring are a go-to choice for homeowners, builders, and designers. Full of inherent character, eye-catching graining, and unique markings, genuine wood and realistic wood-look vinyl and laminate options will bring natural beauty and durability throughout a farmhouse home. These trending styles provide the most in-demand looks that still lend classic appeal:
Airy, light-colored wood tones are extremely popular, thanks to their ability to enhance natural light and brighten up spaces effortlessly. Combined with brushed texture and subtle grain, these attractive varieties also prove easier to keep clean within an active home.
Reclaimed planks with dramatic distressing, saw marks, and bold texture will bring salvaged barn wood to mind, an ideal choice to ramp up the countryside charm.
To turn the chic factor up a few notches, explore wood visuals that are artistically elevated with painted detail for creative finished floors.
Combining grey and beige undertones for an exceptionally easy neutral tone to design against, greige wood tones produce the feel of traditional wood with today's fashionable color palette.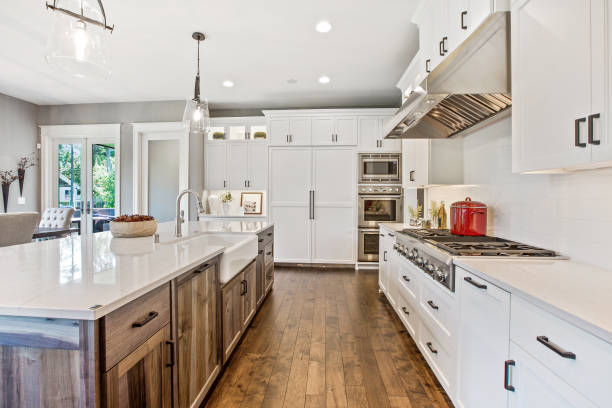 Stunning Stone
You can also complete farmhouse interiors with the incredible tones and veining of natural stone, tiles, and stone-look LVT and laminate options. We love the visual of slate, terracotta, and vintage-inspired patterned tile to deliver texture, character, and a connection to the great outdoors. Use matte finishes to boost the natural appeal that will make farmhouse rooms feel luxurious and relaxed at the same time. Explore a cobblestone layout or staggered brick pattern to truly create a rustic aesthetic that's as memorable as it is cozy.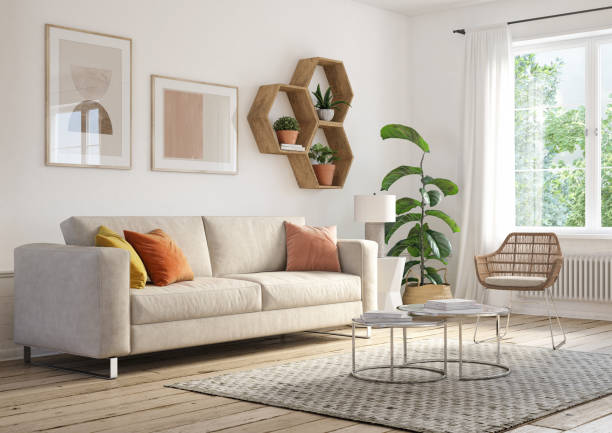 Carpet Comfort
Farmhouse floors are hardly limited to hard surface products: the appropriate carpet can help complete this design scheme while adding the softness and comfort that everyone loves. Generally speaking, stick to neutral colors and classic patterned carpet that will add depth and keep your finished rooms uncomplicated and warm. Cut-and-loop constructions and woven constructions add visual interest and reliable performance without appearing busy or overwhelming a space. If your farmhouse home features hard surface flooring throughout, don't forget that area rugs present great opportunities to add classic patterns and visuals without long-term commitment or costly purchases.
Cherishing time-honored themes and familiar flourishes, rustic interiors age gracefully as the years roll on. Visit our helpful flooring experts in Norfolk, VA Paneling Factory Of Virginia DBA Cabinet Factory showroom to bring your farmhouse vision to life!